Samson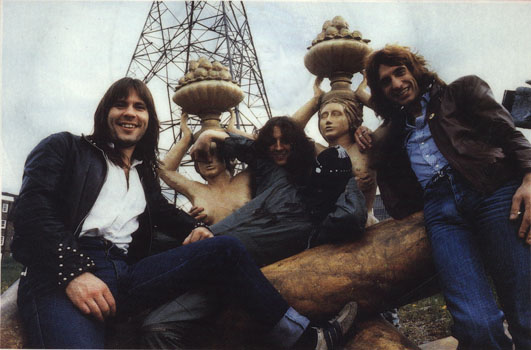 After being spotted by Paul Samson, at a Shots gig at the Prince of Wales in Gravesend, Bruce was asked to try out for Samson's band, aptly named Samson. Formed by Sidcup-born guitarist Paul Samson in 1977, the band had been touring quite extensively in the UK alongside other forerunners of the New Wave Of British Heavy Metal and they had an album recorded which was yet to be released. Bruce was still at university but in the evening of the day of his final exam he went down to Wood Wharf Studios in Greenwich rehearse with his new band.
During the first week of rehearsals they began writing songs together and had soon written "Hammerhead", "Too close to Rock", "Walking out on You", and "Take it like a Man" which were added to the live set. Bruce made his proper live debut with the band at the Heavy Metal Crusades third appearance at London's Music Machine on July 2nd.
Bruce wasn't sure of what to expect from a professional rock band but he decided to jump in and make the best of it. "I discovered quickly that if you were straight you couldn't actually communicate with anybody. So I just thought I'd have to smoke a joint, otherwise I wouldn't be able to write anything, and that's pretty much how it went. To be honest, every single thing I ever did at that time, I believed it was just a step towards my goal of just wanting to be a singer in a rock 'n' roll band." Bruce has referred to his time in Samson as "a blur of chemicals", but he was never into the hard stuff. When it came to illegal highs, marijuana was his biggest personal vice.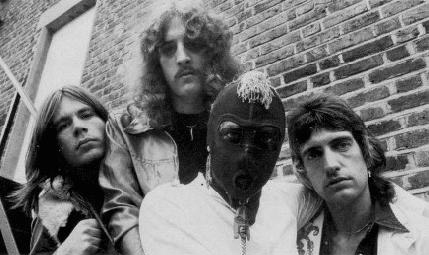 The "Survivors" album was released in October 1979 and has Bruce on the cover and he is credited with singing and playing harmonica, even though the album was completed two months before he joined. The band toured to promote the album, first supporting Gillan and then on a 26 date university tour. 1980 kicked off with more touring, this time supporting Robin Trower and immediately after that, Rainbow.
In March they went to Kingsway Studios to record the new material they had amassed. Around this time Samson had been offered a record deal from EMI and plans were underway to release a single, a double A-side of "Vice Versa"/"Hammerhead". However, a strike at the pressing plant threatened to put the tour in jeopardy due to the single being delayed, and GEM records (a subsidiary of RCA) stepped in and literally "nicked" the band in front of EMI.
The album, "Head on", produced by the band themselves and mixed at Trident, was released on June 27 1980, and received 5 star reviews in Sounds and Record Mirror, and it entered the charts at 75, peaking at No 34. This was Bruce's first album. Prior to the release of the album they made the short film "Biceps of steel" at the Rainbow theatre with director Julien Temple, intended to be shown at movie theatres in support of "Breaking Glass" with Hazel O'Connor. The movie was made but the screening fell through.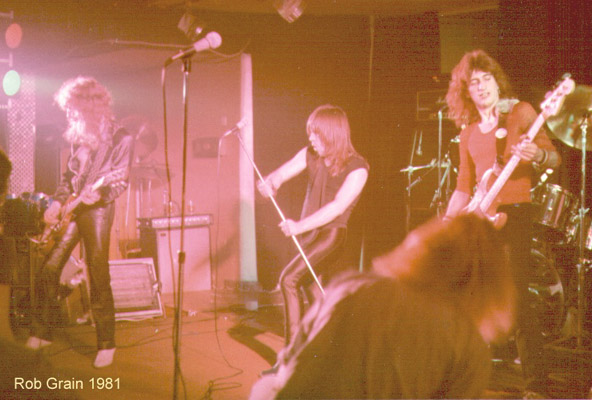 Live at Zero Six, Southend, 1981
The band had been having severe problems with their management all year and eventually they terminated their management contract on July 4th, whilst on tour. This caused legal problems for the band as the management fought back ferociously. Eventually it all ended up in high court leaving the band unable to play gigs and get paid. In order to keep themselves together, Samson had carried on writing and rehearsing when they could, and they had 10 new songs ready to record by the end of October 1980.
They finished the year with writing and production rehearsals with producer Tony Platt, for the new album, to be recorded after Xmas. On January 2nd 1981 the recording of "Shock tactics" began at Battery studios, North London, and was completed on January 31st. It was then discovered that their record label, Gem, were going bust, and were no longer able to support the band or release the album. The album was eventually released by RCA and it was well recieved but the record company had next to no support for the album.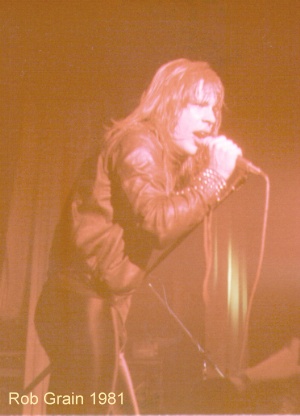 Bruce in Samson at the Crayford Town Hall, July 1981
During the Shock Tactics-tour fractions within the band became evident. As the band had developed it had become more and more obvious that Bruce and Paul were evolving in very different directions. "The 'Shock tactics' album is in many ways the best", Bruce says. "It had a clear direction but it wasn't a direction Paul was happy with. He wanted it to be more bluesy guitar orientated. But it was the first time I discovered a voice that was really my own."
Frustrated by the fact that the band never seemed to get anywhere Bruce had contacted guitarist Stuart Smith with the idea of forming a band. They did a few rehearsals and wrote some material together but that was all that came out of it. Drummer Thunderstick too was pulling in a different direction wanting to take his theatrics even further. It all culminated with him leaving the band in July 1981. Already in August they had a replacement, funk drummer Mel Gaynor.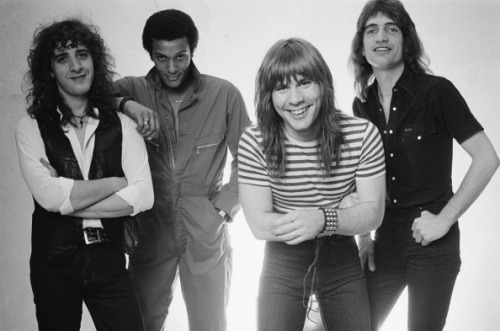 The line up with Mel Gaynor
Bruce's last gig with the band turned out to be at the Reading Festival in 1981. The gig which was recorded by the BBC and subsequently released on the album "Live at Reading 81" albeit nine years later in 1990. "Listening to some of these old tracks they stand up really well", Bruce says. "Certainly all the stuff on 'Shock Tactics' does. When you hear the Reading Live album the band was really cooking. And the songs don't sound dated at all."
Around that time, Iron Maiden had begun considering a change of vocalist due to of increasing problems with Paul DiAnno. Steve Harris says: "Right from the very first time I heard Bruce singing on stage with Samson, I remember thinking, 'Blimey, that singer's fucking great!'" So Steve and manager Rod Smallwood came to Reading to check Bruce out for the job. Samson went down by storm and Bruce was approached by Rod and asked to audition for Iron Maiden. Bruce had had his eyes on Maiden ever since Samson played on the same bill with them on a gig in Bishop's Stortford and was thrilled at the opportunity. After their blistering Reading-performance Samson was offered record deals by several labels but they all withdrew their offers when Bruce announced he was leaving the band to join Iron Maiden.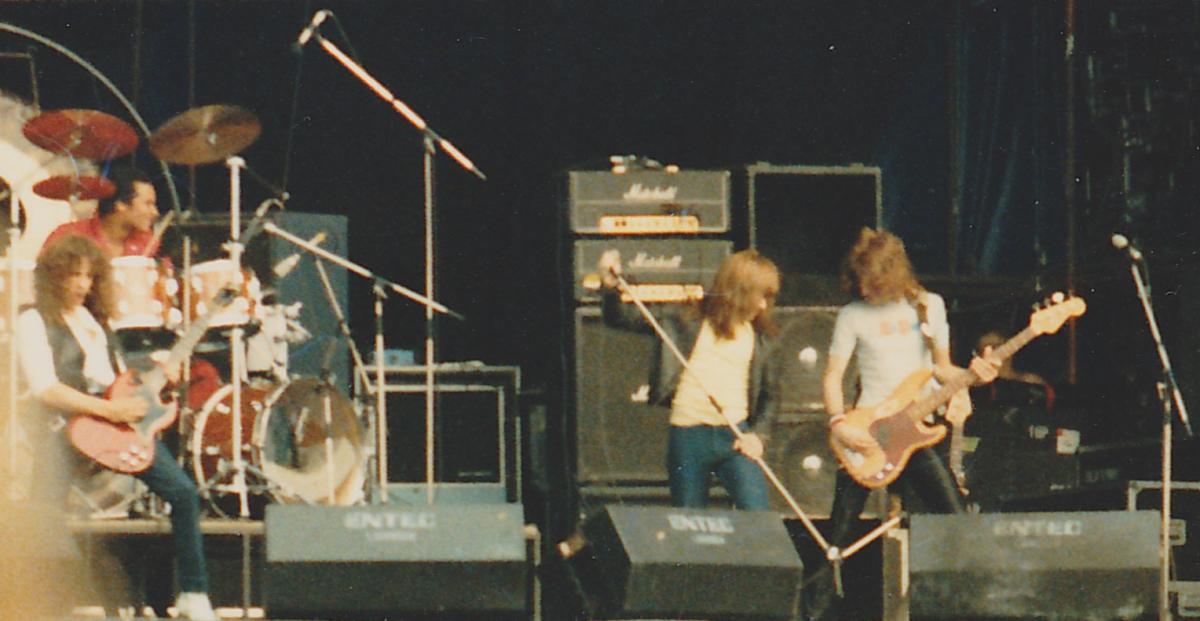 On stage at the Reading Festival 1981 (courtesy of Ari Mutka)
During his time in Samson Bruce was, bizarrely, billed as "Bruce Bruce". The story goes that he was known as Bruce, but what people did not know was that this was his middle name and his real name was Paul. When Paul Samson asked him what his middle name was, he truthfully replied "Bruce", so Paul thought that his name was "Bruce Bruce Dickinson". New members were usually referred to as "New Bruce", a reference to the Monty Python sketch with the australian philosophers. Bruce did not like the moniker but considered it his stage name and sort of accepted it. But it did become tiresome as the band's management wrote cheques, made payable to "Bruce Bruce", as a joke, which gave Bruce enormous trouble cashing them in.
When reflecting on his time in Samson years later, Bruce has said: "Samson worked together as this crazy, fucked up set-up. We used to play some terrible shows and we used to play some brilliant shows and you never knew what you were gonna get. I was the heavy rock, heavy metal end of Samson and Paul was a traditional rock blues boogie guy and we glued the two things together and got this exciting sound." The dynamics within the band, however, changed drastically when Thunderstick left. "When you took Thunderstick out of the equation and replaced him with Mel, this phenomenal drummer, there was no excitement in it there anymore. When he played he played everything perfectly. Everything was in time, there was no mistakes, there was no danger anymore. So I got bored. I had time to think about the shopping list on stage and that's not good."
Later releases and reissues
There are actually two versions of "Head On" on vinyl, one as mixed and produced by the band and another remixed by Tony Platt. The only way to tell the two versions apart is by the matrix number. The first mix has GEM-LP-108-A-1 and GEM-LP-108-B-1 while the Platt-remix differs only in being GEM-LP-108-A-2 and GEM-LP-108-B-2.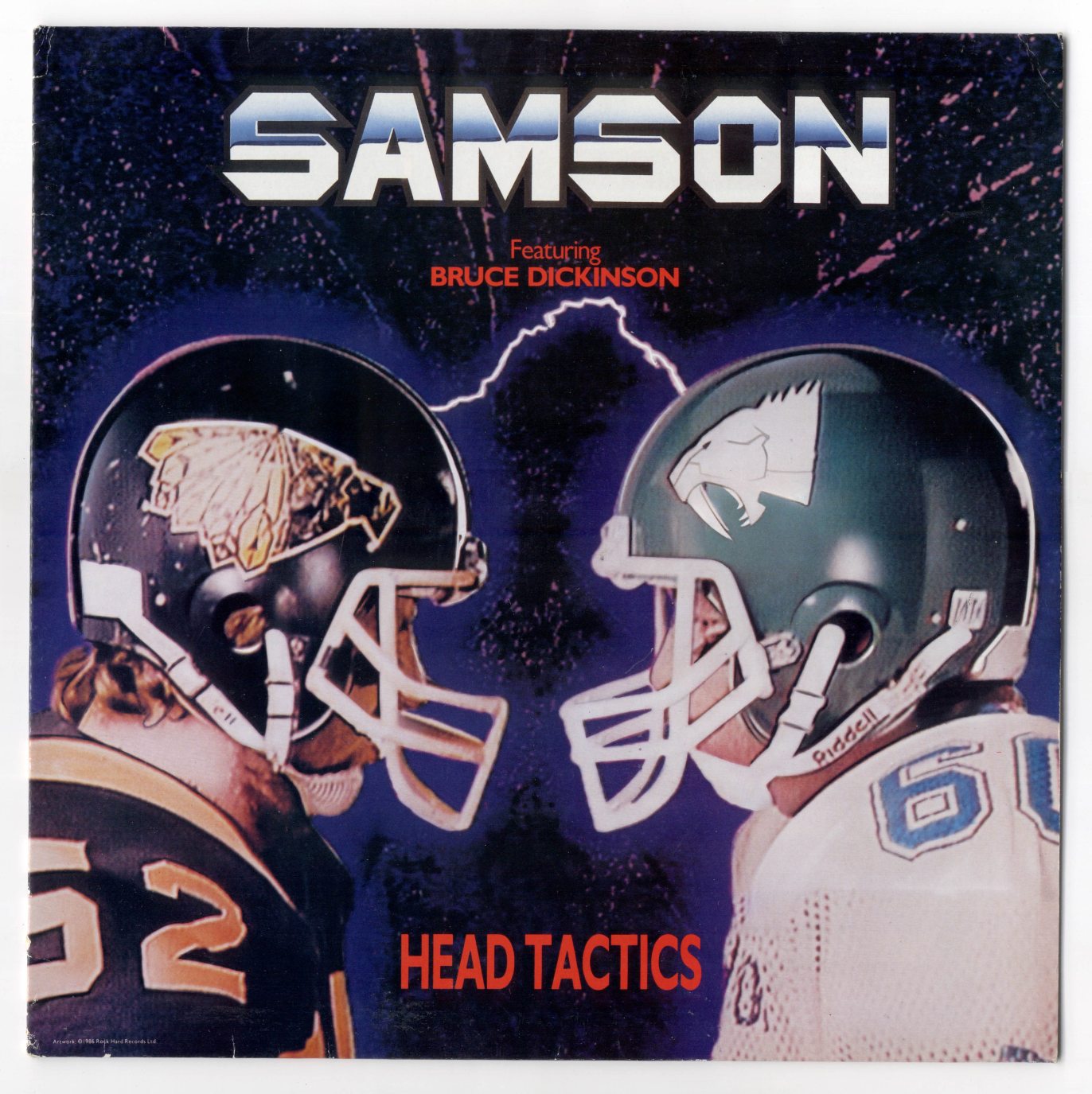 In 1986 Capitol Records issued "Head Tactics" a compilation of tracks from "Head On" and "Shock Tactics" remixed by Jo Julian and Paul Samson. This album featured "Losing my Grip" recorded during the Shock Tactics sessions but never before released.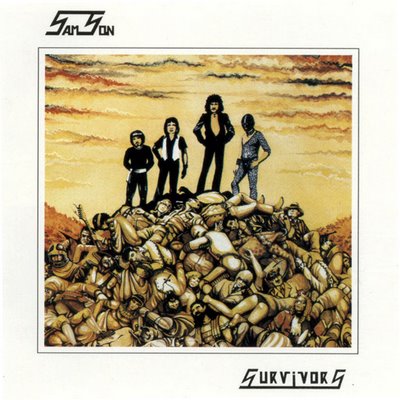 In 2001 Sanctuary reissued "Survivors," "Head On", "Shock Tactics" and "Live at Reading '81" with a bunch of extra material. "Survivors" has, apart from the original album, all the album with Bruce's vocals, a recording made in October 1980. The idea was to use the tracks on a free album to go with the release of "Shock Tactics" but nothing came out of the idea. These re-recordings first surfaced in 1990 when Repertoire Records decided to re-release "Survivors" on CD with five of the Bruce songs as bonus tracks.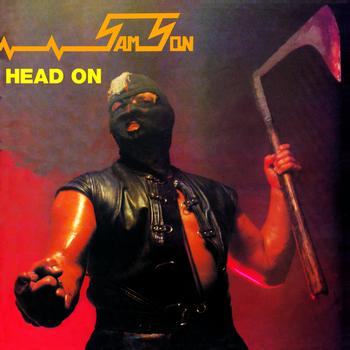 "Head on" features "Angel with a machine gun", the B-side to the "Hard Times"-single and an excerpt from a jam recorded in Kingsway Studios during the recording of said album, aptly titled "Kingsway Jam".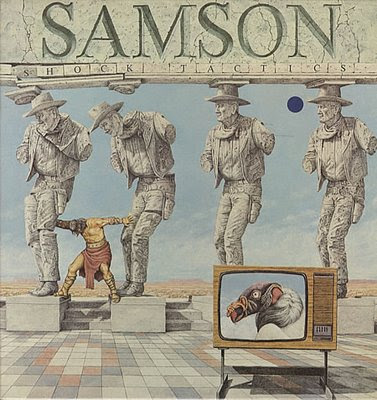 The bonus tracks on "Shock Tactics" are "Little Big Man", the B-side of the "Riding with the Angels"-single, and previously unavailable recorings of "Pyramid to the Stars" and "Losing My Grip", all recorded during the "Shock Tactics" recording. The later two were re-recorded for and subsequently released on the "Before the Storm"-album in 1982.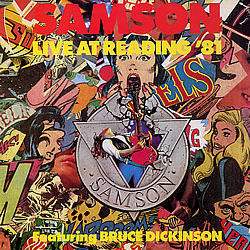 "Live at Reading '81" features, apart from the original album, "Red Skies", "Turn Out The Lights" and "Firing Line" recorded during rehearsals in June 1981.