The story of SAMSON
(Compiled by Henrik Johansson, Rob Grain, Chris Aylmer & Paul Samson)
Part I: 1977 - 1979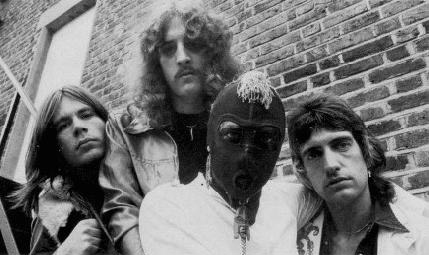 Samson 1980; L to R: Bruce, Paul, Thunderstick & Chris

In the spring of 1977, Paul Samson played in a band together with bassplayer John McCoy and drummer Roger Hunt. During that summer Paul and John wrote a batch of songs that formed the bulk of their live set. The first song that they wrote was "Big Brother".

Then John suddenly quit to join John DuCann so the sound guy got pressganged into playing bass. He was none other than Chris Aylmer. At the time he was playing guitar with a pub rock band called Maya which featured Clive Burr on drums and when the drummer left Chris suggested they'd bring in Clive to fill the drum-stool vacancy.

Within two rehearsals, everything had gelled to the point that they decided to become a permanent band. Chris suggested that as Paul was singing lead, and the band was doing his songs, the name should be changed to Samson, something that Paul had never thought of. They played their first gig on September 24th 1977 supporting the Steve Gibbons Band at the Leas Cliffe Hall, Folkestone. They were billed as "McCoy", but were immediately rebooked to appear as Samson.

Despite the prevalent punk movement, Samson concentrated on getting as many rock gigs as possible. In December they played a short batch of dates at USAF bases in Italy, in order to raise enough money to finance a single. By February 1978, they were playing up to five nights a week, and starting to get a following.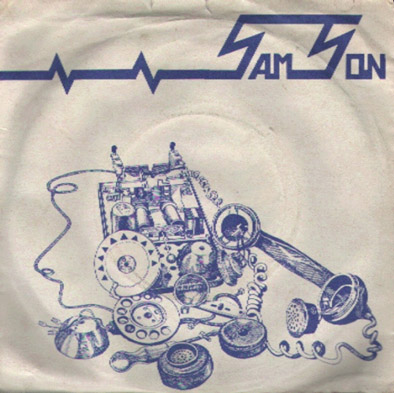 Telephone single

Their first release was the single "Telephone" which had been recorded during the spring with John McCoy producing. Within a month they received an offer from Lightning Records. By the summer, Samson were packing out Pubs and Clubs from Kent to South Wales, and as far north as Derbyshire. The schedule of live dates was relentless, and at the end of the summer they were invited to play at Neal Kay's HM Soundhouse, known as the Bandwagon, where they played to over 500 people. Neal was determined to bring Heavy Metal to the public eye, and latched onto Samson and other Bandwagon favourites such as Iron Maiden and Angelwitch.

"Telephone" was released in September '78, and got a few good reviews. It entered the Indie chart, and the b-side, "Leavin' You" appeared in the Neal Kay HM chart in "Sounds". As a result, Lightning Records took up their option for a second single. The single, "Mr Rock 'n' roll" (with "Driving Music" on the flip), regarded by many as the first ever NWOBHM-single, was produced by John McCoy (who, by this time, had joined "Gillan") and was recorded at Ian Gillans' studio "Kingsway" in November, again during days off from their endless gigsheet.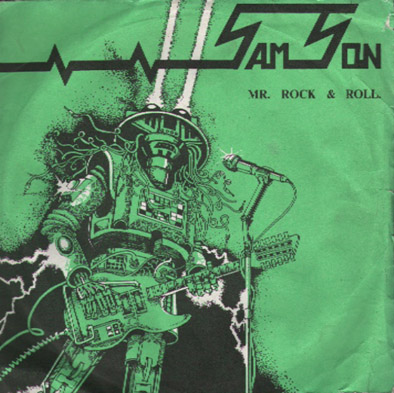 Mr Rock 'n' roll single

During December, Samson were invited to open for the new "Gillan" band on a tour of universities etc, as well as London shows at the Music Machine, and three nights at the Marquee over Christmas. By now, Samson had a good following, and went down well with the "Gillan" audience. Samson finished 1978 with a fourth appearance at Neal Kay's HM Soundhouse on New Years Eve, after which Clive Burr quit. The band had played over 220 gigs in their first Fifteen months.

In the first week of 1979, Paul was signed to Ramkup management. He immediately advertised for a new Drummer, and after several days of auditions the job was given to Barry Graham, an old friend of Pauls who had been in different bands before joining, amongst them Iron Maiden for a short period. When he joined he was working as a Park keeper. Meanwhile, Neal Kay had been working on putting together a UK tour that would take the HM Soundhouse around the country and expose the new generation of Metal bands. Samson's management got involved in these talks, and the wheels were put into motion.

After three days rehearsal with Barry, the band went out for a run of gigs in the Midlands, before going back to start recordings at Kingsway for an LP. John McCoy, who also guested on Bass, produced it. They also brought in Gillan keyboard player Colin Towns to play on four songs. All of the songs on the album were written by Paul and John between June 77 and March 79.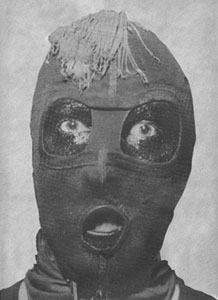 Thunderstick

By April the album, titled "Survivors", was complete. The management immediately set about trying to get a record deal for it. "Mr Rock and Roll" had been released as a single in February, and had sold out of its 2000 pressing within six weeks. Barry, meanwhile, had invented an image for himself with the black mask and paraphernalia, and the name "Thunderstick".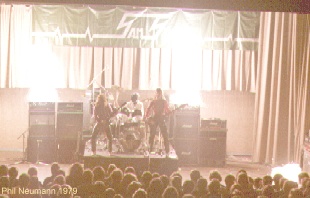 Woodville halls in Gravesend, November 79

"Thunderstick" made his stage debut on March 3rd, at Bristol Granary. Samson were back on the road during March and April, developing the new stage act with Thunderstick and introducing a great deal of pyrotechnics to the proceedings. It was during April that Paul and Barry first saw a group called Shots, featuring then unknown singer Bruce Dickinson, who impressed both of them.

During May, Samson, Iron Maiden & Angelwitch, together with Bandwagon DJ Neal Kay played a batch of major UK dates, under the banner of "The Heavy Metal Crusade". The London show at the Music Machine on May 8th was attended by over 1500 headbangers, and all of the bands went down well. The show was attended by Geoff Barton, who did a double page spread in "Sounds" on the gig, the bands, and the movement which became known as the "New Wave Of British Heavy Metal". As a result of the press coverage and the reaction of the fans, the tour was extended to the 14th July, ending at Guildford Civic hall, with Saxon replacing openers Angelwitch.

A third Samson single was released in July, which was a re-recording of "Mr Rock and Roll", with Thunderstick on drums, released on Laser records, who also put in an offer to release the "Survivors" album.


Part II: 1979 - 1981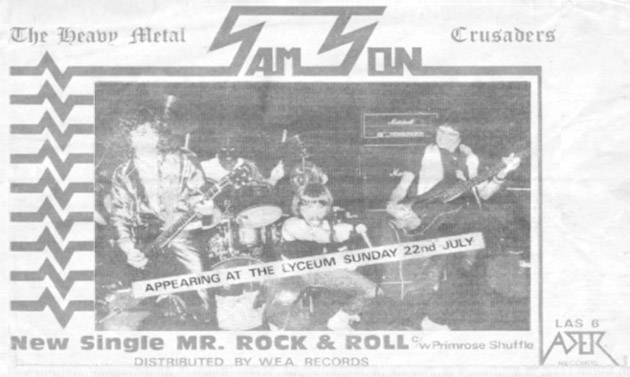 Add for the Heavy Metal Crusade gig at the Lycheum

During the "Crusade" dates, Paul, Chris and Barry talked about the idea of adding a vocalist to the line-up. Bruce Dickinson had kept in touch with the band and turned up at a gig in Bishops Stortford, where he had come onstage with the band for the encore and sung "Rock me Baby". He had managed to get a huge singalong going with the audience, and did so well that he was offered the job in Samson immediately. He needed to finish his University degree first, but agreed to start rehearsals at the end of June. It was planned for Bruce to make his live debut with Samson at the Heavy Metal Crusades third appearance at London's Music Machine on July 2nd.

During the first week of rehearsals, apart from teaching Bruce the live set, they also began to write songs together. In the first five days they had written "Hammerhead", "Too close to Rock", "Walking out on You", and "Take it like a Man". These songs were also put in the live set for the following weeks show at the Music machine. Although the gig went well, the reaction from the people wasn't as good as it might have been, as the Samson fans were not expecting such a radically different sound.

It was a confusing time for the band as they felt that they had improved things by adding Bruce to the band, but it took some of the regular Samson fans a while to catch up. The "Survivors" album was scheduled for release in October, when they would also play an 18-date tour of major halls with Gillan, starting off in Carlisle Town Hall. This was Bruce's first introduction to real touring. They were third on the bill with Randy California in the middle.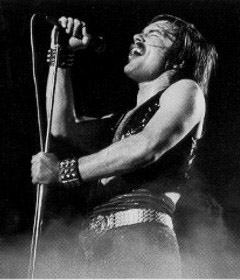 Bruce live

During the tour, Samson also recorded their first BBC session for the Friday Rock Show, where they became friends with DJ Tommy Vance. The "Survivors" album received 4 star reviews in Sounds and Record Mirror, and stayed in the indie top ten album chart for 26 weeks, peaking at No 3. It should be noted that despite the credits, Bruce does not appear on the original Album/CD of Survivors, as the final mixes were completed two months before he joined the band. His vocal overdubs on "Survivors" were added in Sept 1980.

On the back of the success of the Heavy Metal Crusade, the Gillan tour, and the reviews of "Survivors", Samson spent the rest of 1979 headlining their own 26 date tour of Universities and major clubs, supported by the Nicky Moore Band. The tour ended at the Leas Cliffe Hall, Folkestone, to over 1000 people, just two years after the first ever Samson gig there. That Christmas, ex-drummer Clive Burr joined Iron Maiden, and on December 1st, Sounds front page featured a picture of Thunderstick, under the heading "The new face of Heavy Metal".

Samson went straight back to work in the New Year of 1980 as special guests to Robin Trower. The band went down well, but it was a mismatched pairing at the time, although Trowers influence on Paul became apparent later on. The tour included a date at Hammersmith Odeon, and finished at Newcastle City Hall on Feb 12th. One week later the band were back at the same venue, this time opening for Rainbow on their "Down to Earth" tour. This was a much better tour for Samson, who went down by storm every night. Shows to 10-12000 people at Inglestone (Edinburgh), Bingley (Stafford), and Wembley in London were particularly good. The Rainbow tour finished in March at Wembley Arena with the "riot". The story behind this is that the band played a blinding set (receiving a standing ovation) and got called back for an encore, which they did. Mr Blackmore was not happy, as he believed that there should only be one encore per concert, so when Rainbow finished he refused to come back on, and the audience created a riot. As a result, Samson were cancelled for the rest of the Rainbow dates.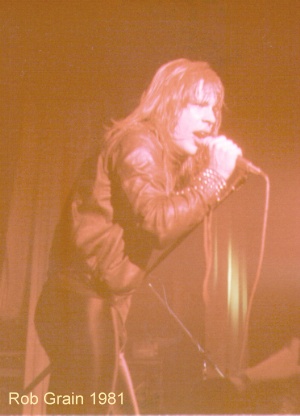 Bruce at the Crayford Town Hall, July 1981.

After that tour they immediately went back to Kingsway studios in March and April to record their new songs. Around this time Samson had got offered a record deal from EMI and they had planned to release a single; a double A-side of "Vice Versa"/"Hammerhead" which was supposed to be released on May 9th. Some gigs throughout the UK were booked, as well as appearances at the Marquee club on May 15 & 16, to promote the release of the single. When a strike at the pressing plant threatened to put the tour in jeopardy due to the single being delayed, GEM records (a subsidiary of RCA) stepped in and literally "nicked" the band in front of the much surprised EMI, who subsequently never released the single officially, save some promotion copies.

The single was released on June 6th on the "new" label, and the band undertook a short British tour to promote it. Thundersticks' cage made its debut on these dates. In mid June, they made the short film "Biceps of steel" at the Rainbow theatre with director Julien Temple. They then recorded "Angel with a Machine Gun", again self-produced, at Trident studios, which would be released as a B-side for the "Hard times"-single later that summer. The album, "Head on", produced by the band themselves and mixed at Trident, was released on 27th June, and received 5 star reviews in Sounds and Record Mirror, and it entered the charts at 75, peaking at No 34.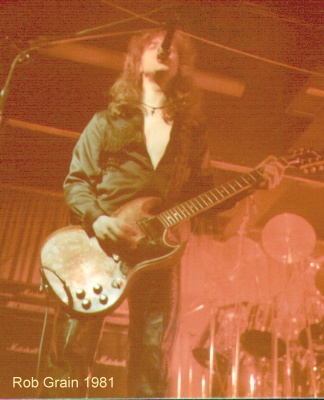 Paul at Crayford, Town Hall, July 1981.

The Head On tour started at St Albans on 28th June, and was scheduled to run until August 11th, a total of 32 dates, plus radio appearances. The band had been having severe problems all year with their management. Much of what was set up and organised had been done by Paul and Bruce, and they were all feeling that something had to be done before they could make the next move. Consequently they terminated their management contract on July 4th, whilst on tour. This caused horrendous legal problems for Samson as the management fought back ferociously. They all ended up in the High Court at the Strand in London, fighting it out with barristers. The band were injuncted by the court to cease working until it was sorted out, and the last ten dates had to be cancelled. They had to get special permission from the court to play at the Reading Festival on 23rd August, which although very successful for the band, they were not allowed to be paid, and had to hand all of the money to the courts. The band were off the road for the next two months fighting the case, and it was deemed in the end that Samson had to stay with the management until Feb 81, and sign over the rights to their recordings in perpetuity until July 81.

In order to keep themselves together, Samson had carried on writing and rehearsing when they could, and had 10 new songs ready to record by the end of October 1980. This is when the vocals to some of the "Survivors"-tracks were redone with Bruce. The idea was to use the tracks on a free album to go with the new release but it never happened. These re-recordings were "forgotten" until 1990 when Repertoire Records decided to re-release "Survivors" on CD with five of the Bruce songs as bonus tracks.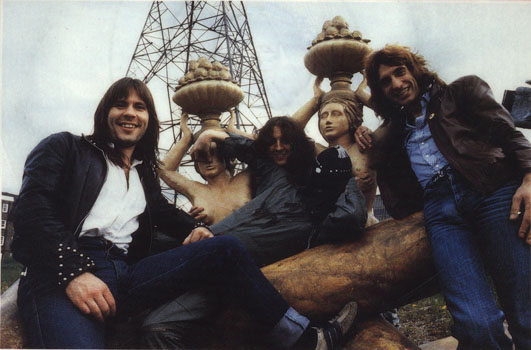 Samson 1981; L to R: Bruce, Paul, Thunderstick & Chris

Samson wanted to get into Europe by now, and were not pleased to find out they had been booked to play a British tour in November with Uriah Heep. They were booked to play middle spot on a three-band bill, but with no cage or pyrotechnics. The opening band was Spider. Samson had already played most of the venues on this tour as a headlining act, and felt that this was proof that they were being badly handled by their management. They went down great, of course, sometimes outselling Uriah Heep on T-shirts (and probably tickets). They finished the year with writing and production rehearsals with producer Tony Platt, for the new album, to be recorded after Xmas.

The recordings for "Shock Tactics", the bands third album, began on 2nd January 1981 at Battery studios, North London, and were completed on 31st Jan. 12 tracks were recorded, of which 9 went on the album and one, "Little big man", went on the other side of the new single, "Riding with the Angels", a Russ Ballard B-side which producer Tony Platt had dug up and which the band turned into a real rocker. "Pyramid to the Stars" and "Losing my grip" remained unused. These two were rerecorded and put on the 1982 follow-up ("Before the storm"), but by then Bruce and Thunderstick had quit, and been replaced by Nicky Moore and Pete Jupp respectively. The Bruce-version of "Losing my grip" submerged on the 1985 compilation "Head Tactics" which featured remixed tracks from the two studio-albums he was on.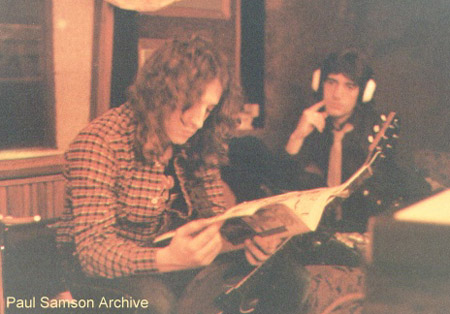 Playback of the Shock Tactics album in Battery Studios, Jan 81.

The band enjoyed the "Shock Tactics" sessions, not least because Iron Maiden were in the studio next door recording their 2nd LP, "Killers". Many silly nights and hysterical times were had during these sessions. While the band were letting off steam, Tony Platt got on with the mixing of the album.

Once it was delivered to Gem, another series of problems hit the band. As of Feb 4th, they were free of their management, and were able to start talking to people who might be more suitable. They arranged to play a show at the Marquee in March to showcase for management companies. A new manager was appointed, and they then discovered that Gem were going bust, and were no longer able to support the band or release the album. Over the next couple of months they arranged for their sister company, RCA, to release the album and single.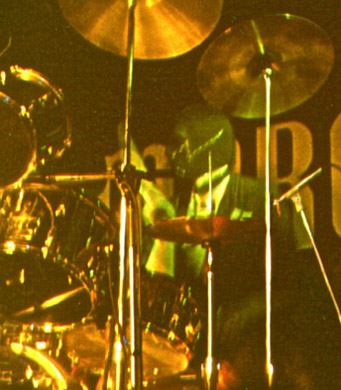 Thunderstick at the Marquee.

"Riding with the Angels" was released as a picture disc-single, eventually peaking at No 54 in the charts. The album was also released, and got 4 star reviews in Sounds and Record Mirror, some saying, "It is their best work yet". The album cover was a painting made by Chris Brown which had a temple with a row of pillars, sculptured like John Wayne, which the mighty Samson tries to tear down. In the foreground of the picture in the right corner is a vulture on a telly-screen.

A UK tour was arranged for June, with such appalling routing that it was nicknamed the "We don't give a fuck about the petrol bill" tour. During the June rehearsals the band had written "Red Skies" and "Turn out the Lights", although it would be another year before they were recorded. The tour started in Leeds on June 11th, and continued until the 25th with only one night off. It was generally a success, but many of the gigs were clubs, and Thundersticks cage was too big to be used for much of it. The band had also changed between themselves, and a distinct fraction had appeared between Thunderstick and the rest of the band. It culminated in a heavy debate in July, when it was mutually decided that Thunderstick would leave and form his own band. He played his last gig with Samson (at that point) on July 8th 1981 at Wigan Pier.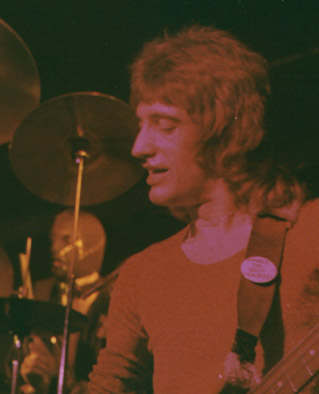 Chris on stage at the Marquee.

The band wasted no time in seeking a new drummer. In August replacement was found in Mel Gaynor, a black Funk/Rock drummer with amazing abilities. They rehearsed through August, getting ready for a second appearance at the Reading Festival, and writing new material. After a couple of low-key warm-up dates, Samson hit the Reading stage early on the evening of Saturday 29th August and took the place apart. The absence of Thunderstick didn't seem to cause too much complaint. This turned out to be Bruce's last gig with the band. When introducing the band on stage, Bruce pointed out that they now had a drummer that was not wearing a bag over his head. The show was recorded by the BBC for the Friday Rock Show and the tapes were used for an album that that released in 1990, simply titled "Live at Reading '81".

For the encore they played a song they had written earlier the same week, "Gravy Train". This song exists on no other record but this live. However, the lyrics were later rewritten by Nicky Moore and this new incarnation of the song was recorded as "I'll be round" by the Samson/Aylmer/Moore/Jupp line-up.

Around that time, Iron Maiden had began considering change of vocalist due to of increasing problems with Paul DiAnno. Steve Harris and manager Rod Smallwood came to Reading to check Bruce out for the job. He then spent a week rehearsing with Maiden and recorded some demos, and was totally convinced that they were the band for him.

As a result of Samsons performance at Reading, they were offered £2.500.000 record deals from A&M and RCA. When the band met up a week later to discuss the merits of the offers, Bruce announced that he was leaving to join Iron Maiden, and both of the labels withdrew their offers eventually.

Paul, Chris and Mel wished him luck and set about immediately seeking another singer.
Part III: 1981 - 1986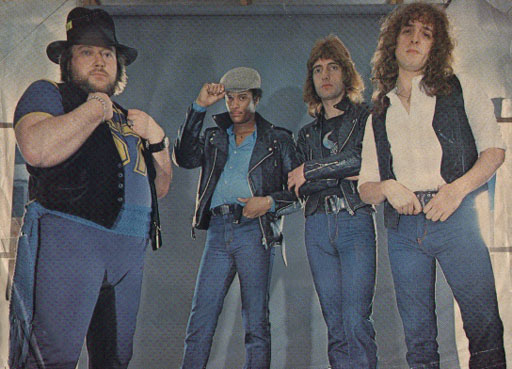 The Nicky Moore / Mel Gaynor lineup

Following the unexpected resignation of Bruce, Paul and Chris set about finding a replacement. The word soon got out on the grapevine, and within a couple of days they had a list of twelve vocalists from other NWOBHM groups to try out. None were as good as Bruce, so it was decided that more thought needed to be put into it. There was even a suggestion that the band reverted to a three-piece with Paul taking the lead vocal , as the "Survivors" album had sold more than "Shock Tactics", (although the sales of "Shock Tactics" were greatly affected by the liquidation of Gem records.) but Paul was not too keen on the idea.

Ever since the Survivors tour, Paul had become great friends with Nicky Moore, who had been the support act. All through '80 & '81 Paul had been going to Nicky Moore Band gigs whenever time off allowed, and often jamming with him. Despite Nickys 300 pound appearance, Paul was convinced that Nicky was the man for the job, and the only person who could replace Bruce in terms of quality. Within a week, Nicky had become the new singer of Samson, and by the time the press had announced Bruce as the new Iron Maiden singer, Nicky was already writing new material with Paul and Chris. In November '81 the band played a short UK tour to showcase the new lineup to the fans, the press and the record labels, and most of the dates were sold out, including two nights at Londons Marquee club on 1st & 2nd December.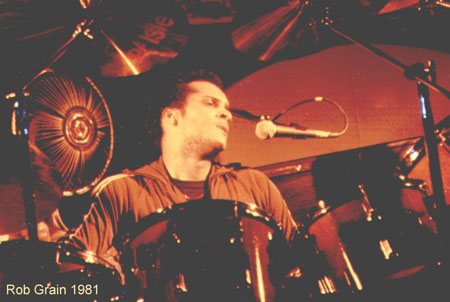 Mel Gaynor live at King Charles Hotel, Gillingham, November 1981.

The reviews of the dates were all really encouraging, and Nicky, plus the new bluesier direction, were accepted by all and sundry. Mel Gaynor, however, had become extremely busy as a session player, and was not able to give Samson the priority they demanded, so after another sold out show at the Marquee on the 4th of January, it was mutually decided that he should leave. Sitting in the dressing room at the time was an old Jamming partner of Pauls, a drummer called Pete Jupp. He had already played a few rehearsals with Samson a few days before Christmas when Mel Gaynor was not available. Pete was offered the job straight away, and this settled the line up for the next two and a half years, and produced some of the bands best ever material.

The next few months were spent writing new material for what would become the "Before the Storm" album. They recorded a new single "Losing my Grip" at Musicworks studio, with Jo Julian producing, and during April went out on a british tour with US southern boogie band Blackfoot. The tour was a great success for both bands, and resulted in Samson being signed to Polydor records worldwide.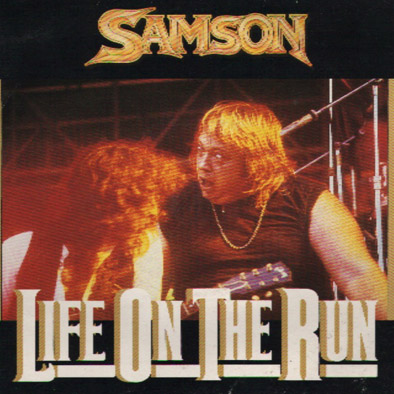 Life on the run single

Polydor released "Losing my Grip" as a single, picture disc, and 4 track 12" EP in June, where it entered the charts at No 64. It showed the band and Polydor that despite the change in line-up and direction, the following was still there. Another UK tour was undertaken in July, with Bernie Marsdens SOS and Angelwitch. Most of August and September was spent back in Musicworks with Jo Julian recording the "Before the Storm" album. As well as "Losing my grip", The album also contained the singles "Life on the Run" (released Oct 82) and "Red Skies" (Feb 83). The band went back on the road on September 18th, firstly to france, where they Headlined the Mulhouse festival as well as other shows. Also on the bill at Mulhouse was "Uli Roths' Electric Sun", and "Viva", featuring Barbara Schenker, sister of Michael and Rudolph. Back in the UK, Samson went on tour to promote "Before the Storm" as special guests to Whitesnake, on their "Saints and Sinners" tour. The whole tour was sold out, and the band played to over 100,000 people. The album got great press reviews, and stayed in the rock chart for 11 weeks.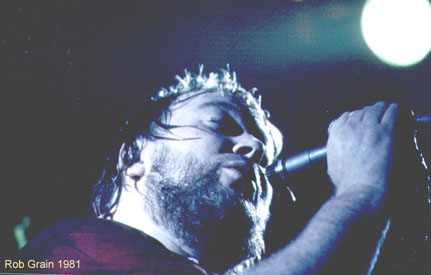 Nicky live in November 81

Samson toured extensively through 1983. They went back to France, then to Yugoslavia, where they played to 30,000 people in 5 shows, then a totally sold out tour of Germany and Holland. Even though "Before the Storm" notched up the best UK sales of any Samson album to date, it was completely dwarfed by their European sales. The European market had never seen the Bruce/Thunderstick line-up of the band, so there were no comparisons to be made. In fact Bruce had become so established as a member of Iron Maiden that some European journalists were asking the band if it was true that Bruce had once sung with Samson! Because of the deletion of "Head On" and "Shock Tactics", there wasn't much evidence in Europe at that time to show for it. Thunderstick had by now put together a self-titled band with a female singer and a more theatrical identity, and released a 4 track EP.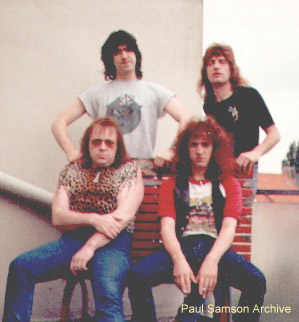 The band on tour in with Accept Germany 1983

When Samson returned to the UK in the summer of 1983, they were put back in the studio, this time with Pip Williams as producer (still at Musicworks) to record a new album and single. These sessions produced the album "Don't get mad, get even", and the single "Are you Ready", which were completed by October '83. Around about this time, the band started to experience problems with Polydor. The NWOBHM was dying down in the UK, with many of the smaller and late runner bands disbanding, or being dropped by their record companies. New commercial bands from America such as "Bon Jovi" and "Bryan Adams" were taking over the music press, and Polydor wanted Samson to pursue this more commercial edge, hence employing Pip Williams (as producer of many hit records). Paul was actually "bollocked " (an english expression for Told off !!) at the label one day for selling so many more albums abroad than in England, and was told that "success in Europe means nothing to your accounts in London "!!. This, coupled with problems with the management, kept the band off the road until December, whilst they removed the manager from their business arrangements.

In the New Year, Samson played a British tour with Gary Moore, to promote the release of "Don't get Mad...", which got the band some of their best reviews so far. This time without Chris Aylmer who had been replaced by Merv Goldsworthy (ex Diamond Head) and the band also had a second guitarist, Dave "Bucket" Colwell (ex 720). Pete knew Dave Colwell from having been in the same band together around '77-78 called Hotline. However, it was Polydor who had insisted, at the last minute, that Chris was to be pushed out in favour for the other two younger musicians. Paul, Nicky and Pete had to go along with this, under threat of all Tour and Album promotion budgets being withdrawn otherwise. The tour was a success all the same, but things were not happy within the camp. Between February and April, they played an 8 country tour of Europe, some with Gary Moore, which was a great success.


Pete behind the drums at Hammersmith Odeon on the Whitesnake tour, Jan 83.

The two new members and Pete Jupp began writing new material on the road, which they started to push heavily towards Paul and Nicky, who felt that this material was totally unsuitable for Samson. The band returned to the UK in April, to find that Polydor had withdrawn funds and cancelled the projected May UK tour, under the similar threat of line-up change. This time it was Nicky that they wanted out, in favour of a young "Jon Bon Jovi" type vocalist. To Paul, this was inconceivable, and so after two sold out shows in Dublin and Belfast the following week (over 3000 people per show) Paul chose to disband the group in order to get out of the deal with Polydor, who he saw as a totally negative company, who didn't have a clue or care of what the spirit of Samson was about. They also failed to get "Before the Storm" and "Don't get Mad, Get Even" released in America. The press announced in early May that Samson had disbanded, but Paul and Nicky saw it as more of a tactical withdrawal. They agreed to write a new album during the summer, and then seek a new deal.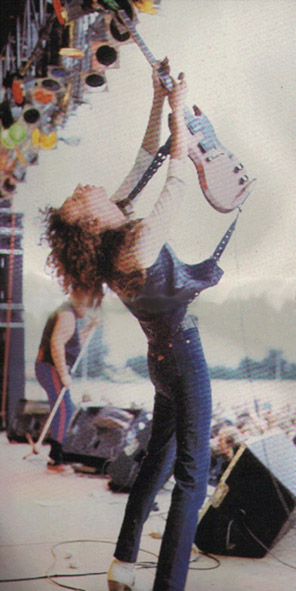 Paul in a classic live pose

Paul immediately joined John McCoy who was recording an album following the disbandment of "Gillan". Paul and John had been close friends since 1977, and Paul had already agreed to play on the album prior to the "Don't get Mad" European tour, and since Samson was effectively over for the time being, he decided to join the band, which was to be known as "McCoy". They went to Rockfield studio in Wales to record the Album , which was eventually released under the title "Think Hard". Paul also played live with McCoy in '84. The line-up was John, Paul, Tony "T-Bone" Reece on vox & Ron Rebel (played in a very early incarnation of Iron Maiden) on drums. After the recording of the McCoy album Paul mixed the live tapes of the last Samson European tour, for what was to become the "Thank you and Goodnight" live album. Nicky joined Uli Roth's "Electric Sun" and recorded the album "Beyond the Astral Skies", and then embarked on a world tour. Chris Aylmer joined "Rogue Male", and Pete Jupp , Merv & Bucket set about forming "FM.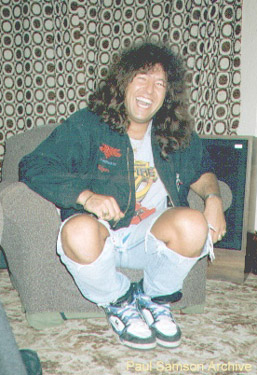 Joint Forces drummer Edgar Patrick

By the autumn of 1984, Paul and Nicky had 10 new songs, and began talks with Musicworks studios and Jo Julian (producer of "Before the Storm") about recording a new album. He was as keen as ever to work with the boys again, and sessions were booked for December. Initially Clive Burr was to be involved, but he decided that it would conflict with his new band "Clive Burr's Escape", comprising of ex members of Praying Mantis. Instead, Edgar Patrik was brought in. Edgar had been drummer of German band Sinner who had opened for Samson on 1983 German dates. On bass, who else but John McCoy. Colin Towns (who had also been in Gillan, and who had also played on "Survivors") played piano, and British female heavy rock trio "Rock Goddess" sang backing vocals. Jo Julian added synths. These sessions became the album "Joint Forces", although the album was not finished until March '85. This was partly due to Nickys touring commitments with Uli Roth, which kept him abroad for most of the time.

Meanwhile Sanctuary management (Bruce Dickinson & Iron Maiden's management) had bought up all the albums and publishing rights of the first three albums, and were planning to release a compilation of "Head On" and "Shock Tactics" on the Capitol label. They decided that it could all do with an updated remix, and employed Paul and Jo to do this at Musicworks. At the same time, John McCoy wanted to go on the road to promote the release of "Think Hard" on Mausoleum. Paul could only be in one place at a time, so had to quit McCoy. "Thank you and Goodnight" was released on Razor Records in the UK, and Metronome in Germany, achieving excellent reviews on both sides of the Channel. "Think Hard" also gained good reviews. "Head Tactics", as it became known, was completed by the summer, after which Paul got heavily involved in session work at Musicworks. During August and September Paul and Jo produced an album for Rock Goddess, eventually to be released as "Young and Free".

By the end of '85 there was still no major deal for "Joint Forces", and it looked as if it would have to be released on a smaller label. A year in the studios doing production and sessions had moved Paul in a different direction, and he began talks with Dave "Bucket" Colwell about forming a totally new band. Nicky didn't take to the idea at all, and went off to write songs with John McCoy. This partnership blossomed into "Mammoth", and was very successful around '87/88.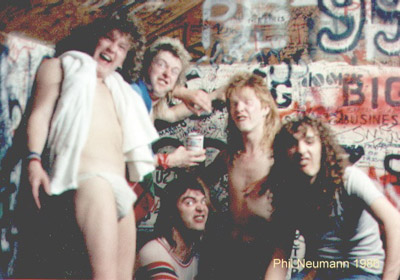 Paul Samson's Empire backstage, The Marquee 86
From L to R; Mark Brabbs, Bucket Colwell, Sam Bluitt,
Paul Samson, Kevin Riddles on the floor

Paul meanwhile recruited Kev Riddles (ex Angelwitch & Tytan) on bass, Mark Brabbs (ex Tank) on drums, vocalist Sam Bluitt (ex Emerson) and Bucket on second Guitar/keyboards. This venture became known as "Paul Samson's Empire". They recorded a number of demos (produced by Jo Julian) and set about trying to get a deal. Castle records put in a bid to release "Joint Forces" for a May release, which was accepted, and was used to launch the new Castle label "Raw Power". Paul took Empire on a short UK tour in May '86, almost two years to the day since Samson had disbanded. The tour was well received by the press. At the same time, "Joint Forces" picked up 4 star reviews, and was No 1 in the German "Metal Hammer" chart, and was voted album of the Month.

Meanwhile, FM (the band put together by Merv & Pete, but obviously without Bucket) had signed to CBS and were getting good reviews, and Mammoth had signed to "Jive". At the end of the tour, Empire signed a management deal with Handle Artists, the company behind Status Quo and Barclay James Harvest. They outlined their intentions to get Empire a six figure deal, and drew up the contracts, only to find vocalist Sam Bluitt quit upon hearing the word "contract". Paul was furious to have his career stopped in its tracks by a singer walking out for the second time. They found a replacement in Mick White, who was only 18 at the time. His exuberance and willingness to learn and get involved impressed the more experienced players in Empire, so they took him on. Although not as immediately good as Bluitt, Empire thought that he had potential. His baptism of fire came up pretty soon, when Empire were offered the special guest slot opening for Iron Maiden on the UK leg of the "Somewhere in Time"-tour in Oct/Nov 86.
Part IV: 1986 - 1999
The Iron Maiden tour consisted of 28 dates, commencing on Oct 10th 1986 in Oxford. It ran until Nov 9th and included two nights in the major cities, three nights in Birmingham, and six nights at the Hammersmith Odeon. The entire tour sold out, and Empire were able to play to over 100,000 people. The band went down well with the Iron Maiden audience, and the backstage and aftershow parties were the mainstay of the tour for most of the band, in fact so much so that Paul began to find it difficult to keep the band together both on and off stage. He was used to touring at that level with a highly professional team of people, and found out by the middle of the tour that Empire was out of control. He spent a lot of time with new vocalist Mick White, and they had begun to write songs together. Both found the rest of the guys in Empire hard work. The last show at Hammersmith also included TV comedy band "Bad News", which ended the tour nicely for everyone at least. The Maidens had looked after Empire.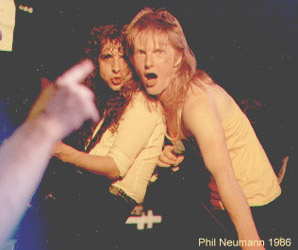 Paul and Empire vocalist Sam Bluitt at the Marquee 86

Over the next couple of months it began to look as though Empire was running out of steam. Despite good reviews from the tour, no new work appeared, or any record deals. Relations within the band began to diminish, and in March, Paul disbanded Empire. He had written a few new songs with Mick White by now, including "Too Late", and "The Silver Screen", and they decided to put a new band together with a keyboard player, which would contain the commercial edge of Empire, and the power of Samson. They recruited drummer Charlie Mack, who had worked with Mick (and Sam Bluitt) in Emerson, and he introduced Paul to Toby Sadler, who had been the Keyboard player of Airrace. Another friend of Charlie and Toby's was Bass player Dave Boyce, who had been in Ore, and with him on board the new band was complete. Paul called the band Samson. From the moment the press announced the new line-up of Samson, the work began to come in.

They rehearsed through the summer putting a live set together and writing new material, and Paul was far happier with this band than Empire. During August, Paul travelled with Clive Burr to Berlin, where they appeared in a number of TV appearances broadcast across Europe as part of "Far Corporation", promoting their single "Sebastian".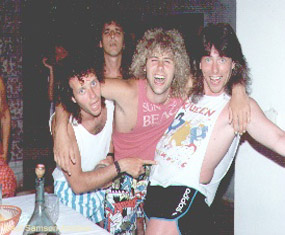 Samson in Yugoslavia

After a batch of warm-up dates in September, Samson flew to Yugoslavia for another stadium level tour there, culminating in a headline spot at the "Rock Spectacular" festival in the Belgrade Red Star stadium, to an audience reputedly consisting of 66000 people. The show was also televised (in black and white) on Yugoslavian TV. The band played a short British tour on their return, which included a sell-out at the Marquee, and completed the year with some French dates, which included a televised interview with Paul and Mick.

In the New Year the band went into Musicworks studios to record some songs for the purpose of record company demo's. These tracks were released in the summer as the mini-album "And There It Is" on Razor Records. The band gigged around the UK and Europe all through 1988, and for the most part was a good period for Samson. They also appeared on TV in Finland, Germany and Portugal. Paul also produced an album for Egypt, a band formed by ex- Dumpys Rusty Nuts bass player Alan Fish, who Paul had befriended since jamming with him and Dumpy at the 1986 Reading Festival. During November the band returned to Musicworks for more recording. Initially it was to record an album with the tentative title of "Ignition". By December, most of the instrumentation had been recorded, but Mick White had not delivered any suitable vocals. He had argued a lot with the rest of the band, to the point where he demanded to Paul that they should all be fired. Instead, Paul fired Mick.

In January 1989, Samson played a tour of Germany using stand-in vocalist Mike Feather. The tour went well, although feather was not kept on. During February they recruited ex-Moritz vocalist Peter Scallan, from Glasgow, and proceeded to write more material. In March, they returned to the studio to record the new tracks, and in addition put Peter Scallan's vocals on the "Ignition" tracks. They also recorded a session for the BBC "Friday Rock Show" (Pauls 4th) which included new jingles for the show. By then the jingles recorded by the Nicky Moore line-up had been in use for over 5 years. After another tour of Yugoslavia, Paul broke his left hand, and had to undertake a series of operations to enable him to play again. This kept him out of the picture for a while, and the band drifted apart during that summer.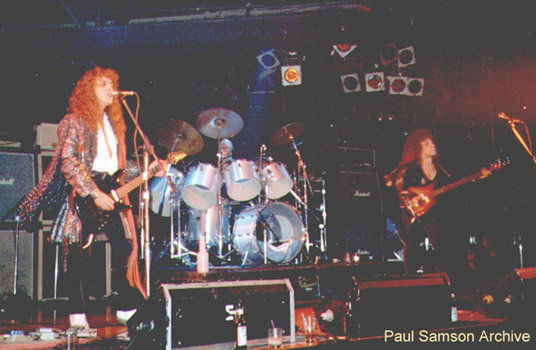 Live at the Roxy 1989. Paul, Thunderstick & Eric Mauriello.

In October, Paul was invited to New York, as the reaction to the tapes was very favourable. It soon became apparent however that Samson's reputation in America was built on what had been achieved with Bruce and Nicky in the early '80s, and Paul was required to deliver that kind of album. It was underlined when he met up with Thunderstick there, and they undertook some rehearsals for old times sake, with NY bass player Eric Mauriello. Word soon got out, and there were soon offers of gigs all down the East Coast. With Paul back on vocals, and a live set of mainly 79-81 Samson material, the dates ended with a show at the New York Roxy, where they were joined for the encores by Ace Frehley! Paul returned to America the following month, to conclude talks for the new album, now titled Refugee.

During December, Paul returned to the studios and worked on the tapes from the "Ignition" sessions. He re-recorded the Bass parts, added some more guitar, and removed some of the Keyboards. He also recorded two new instrumentals, "Samurai Sunset" and "Room 109", of which the latter still appears in the live shows. In January 1990, he returned to America with the new version of "Refugee" to conclude an American release with Communique Records, which became a worldwide deal. He returned to England just in time to recruit Tony Tuohy on drums (who had played on "Samurai Sunset"), and Gerry Sherwin on bass, for a batch of shows in Germany. On this tour he met the band "MP" and singer Walter Holtforth, and both asked Paul to produce albums for them later in the year.

Whilst in New York, Paul had met vocalist Rik Anthony, and on the aftermath of the American shows had begun talks about a reformation with Thunderstick and Chris Aylmer. Paul continued working in the UK with Tony and Gerry under the name of Paul Samson's Rogues, but by April the reformed Samson had written about 6 new songs. Rik Anthony was invited to the UK to write the vocal parts, as his voice and style were very similar to Bruce. The early albums with Bruce, plus Reading 81, were about to be released in Germany and America on CD, as they were now owned by Bruce and the Sanctuary company. Due to the level of interest at this time, Samson felt that a follow-up album could be required, so Paul took Rik to Germany for some dates with the Rogues, to try him out in a live situation. A few UK dates were also played.

Paul then returned to Germany to produce an album for "MP" (who were heavily influenced by Accept), which got very good reviews on its release. Back in the UK Samson went into the studios to record 5 new tracks with Rick Anthony. These have only just been released on the CD Past, Present and Future in 1999. In August 1990 the "Refugee" album was released world-wide, gaining some good reviews, and was a worthy successor to "Joint Forces", making the mini-album "And There It Is" seem out of place in the Samson catalogue. To this day, Paul regards the 1988 recordings as the period when he "lost the plot" for a while. The release of "Refugee" distracted Paul from the reformation as he spent a great deal of time in Europe doing promo radio and TV interviews, including a spot on "Raw Power" in the UK. He played at a festival in the Black Forest in Germany using two session men, which was televised, and then recorded an album with electronic band Tron, which he found to be an interesting amalgamation. Paul returned to the UK to produce new tracks for "Egypt", before returning to Germany as "Paul Samson's Rogues" for a tour with Girlschool and openers "MP". This tour was both successful and good fun for all of the bands. After a batch of dates in Holland, Paul finished the year back in Germany producing and playing on an album for Walter Holtforth (see Cleopha 87 website for more details).

The first half of '91 was a quiet time in the Samson world. Apart from writing a few songs and playing the occasional gig in the UK with the Rogues, Paul generally took some time off. In the summer of 91 he had a call from Ricky Medlocke, who wanted Paul to join Blackfoot. He flew to Detroit to rehearse and write with the band, but Ricky and Paul didn't hit it off, and it came to nothing, although Paul enjoyed it musically. In the autumn, Paul went back on the road in the UK with the Rogues more or less for 6 months, as well as a tour of smaller clubs in the Black Forest area of Germany, and a batch of dates in Scotland. In the spring, Gerry became ill and was unable to continue. As the date sheet was full and expanding, Paul called Chris Aylmer, who joined immediately.

They dropped the "Rogues" part of the name, and billed themselves as Samson, and in between gigs started to write new material. Retaining Tony Tuohy on Drums, this set the scene for the next 18 months or so as they relentlessly played over 185 gigs from Inverness to Plymouth. By the end of 93, the rock scene had changed somewhat, and many of the established venues like the Marquee etc were going to the wall. The new generation of rock fans were not really interested in the NWOBHM acts, and the older fans just didn't seem to go to as many gigs as before. The album "1993" was released to OK reviews, and when Tony Tuohy left in early 94, Paul and Chris decided to call it a day for a while.

Paul spent much of 94 negotiating with various companies that had been involved with Samson albums since 1984, and legally reinstated himself as the copyright owner of them. He was then able to negotiate their releases on CD all over the world. He began to jam and get involved with a few local blues bands, until in February 1995 he joined Ric Lee's Breakers. Ric was (and still is) the drummer of Ten Years After, and his partner on bass was Ian Ellis, who had been in Clouds, and Savoy Brown. Paul stayed with the Breakers for about 18 months, gigging all over the UK to promote their album "Milan" (which Paul is not on), where he says that he learned a lot about the blues. Various known blues artists such as Chris Farlowe, and Dick Heckstall-Smith would get up and jam with the Breakers from time to time.

In October 95, Paul was asked to appear at a "Tribute to Peter Green" show at Shepherds Bush in London. Also on the bill was Snowy White, Chris Farlowe, Mick Abrahams, Savoy Brown etc etc, and it was a great night for all. Also on the bill was Richard Black from Chicago, who was appearing with his drummer Gerry Guzman, prior to playing a UK tour with his band.

Paul got on really well with them, and turned up and jammed at a few of their gigs over the next few weeks. Consequently, at the beginning of '96, Paul joined the Richard Black Project. Over the next eighteen months or so Paul played a UK tour with the RBP as well as two long tours of the American mid-west. They also appeared on a major network TV channel that went out to over 48 million viewers, and where Paul met and spent a day with one of his heroes, Tommy Chong, of "Cheech and Chong" fame. They also recorded an album, which Paul produced and played Bass on, as well as Guitar. To date this has never been released. Paul returned to the UK in the spring of 97, and took time out to write a book.

The following summer, Paul began to write songs again, this time with Ian Ellis from the "Breakers" (who had ceased to exist after Paul had left, and Ric Lee had rejoined TYA). This culminated in the formation of Metallic Blue, and they played a few UK dates at blues clubs during November 98. In March 99, they played a UK tour which was about the most extreme tour that Paul had ever undertaken. Everything that could have happened, happened. Drummer Gerry Guzman was due to fly in from Chicago for the tour and an album that they were planning, but he didn't get off the plane in London, and has not been heard of since. This left Paul and Ian 2 days to find a drummer for the tour, and the album sessions were cancelled. They found a young drummer called Scott Higham (now with AngelWitch) who was excellent, and stepped in with only half a day's rehearsal. On shows that he couldn't make, Tony Tuohy stood in. The promotion for the tour wasn't all that it might have been, and some nights were sold out, whereas others were sparsely attended. The band enjoyed it none the less, and had some good moments. The final dates of the tour in the North of England were particularly harrowing. The tour Managers Father died, so he had to pull out, and backline tech Rob Grain couldn't make them either, so in the true Samson spirit, Paul hired a van and the band went off and did the dates with no Crew or Driver. It was definitely back to basics.

After the tour, the Samson 20th anniversary reformation concerts began to become serious, and so "Metallic Blue" was put on Ice.
Part V: 1999 - present
Back in August 1998, Paul received a few calls from Bruce Dickinson to discuss some 20th anniversary concerts as "Samson", with Chris Aylmer and Thunderstick. Bruce had been out of Maiden for a few years, and was then touring his "Chemical Wedding" album. Paul, Chris and Thunderstick decided to have a few rehearsals prior to playing with Bruce, just to see how it sounded. Everyone, including the road crew, was devastated by the sound and power of the band, and one even said that he found it difficult to speak for two days afterwards! The magic was still there.

The next thing that happened was that Bruce had returned to Iron Maiden for their 20th anniversary concerts, so no surprises there.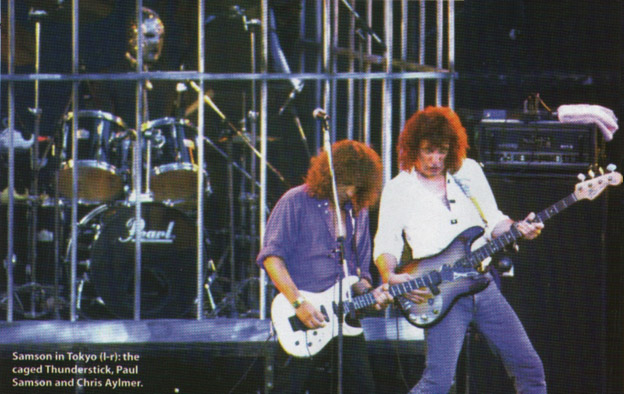 Live in Japan 1999, from Classic Rock Magazine

Around about the time of the last Metallic Blue tour, Paul had received calls from all over the world about Samson 20th anniversary NWOBHM concerts. The first to materialise was the "Metal Crusade 99" festival in Tokyo on 1st August. The bill included "Praying Mantis", "Trespass", and "Tank", as well as Samson. They rehearsed a live set as a three-piece, with Paul taking lead vocals, and flew out to Japan at the end of July. The festival was a great success for all of the bands, but will probably be remembered mostly as the concert where Thunderstick smashed the front of his cage down on Paul, who typically just played right through it. The concert was recorded by Pony Canyon, and was released in Japan in November '99 as a double cd featuring all four bands

On their return to the UK, Paul and the band began writing new material, and by the end of the year had the basics of 6 new songs together. Over the festive period, Paul visited Nicky Moore, who liked the ideas and the vibe so much that he offered to rejoin the band.

In the New Year of 2000, Paul and Nicky began to write new material together, and to make some demos. They decided to showcase their return at the Astoria (LA2, now the Mean Fiddler), in London to celebrate the 20th anniversary of the NWOBHM. The bill also included Angelwitch and Praying Mantis initially, but Mantis had to pull out due to a family bereavement. After a warm-up show in the Midlands, the LA2 show took place on May 26th, and was a great success. The concert was digitally recorded and video taped, and was released as "Live in London 2000" on Zoom Club Records in December. The double cd includes 60 minutes of Audio concert, as well as a 20 minute video disc of the show.

In early August, the band played at the Wacken festival in Germany, which again was a huge success for them. Various TV companies from around the world filmed the show, and clips have been shown, along with interview footage from the festival site. A Wacken 2000 video/DVD, which includes SAMSON footage, will be on sale soon.

In February 2001. Zoom Club Records released "There and Back", an 18 track compilation cd of previously unreleased versions of tracks from the bands Polydor era, recorded between 1982 and 1983. It also includes hilarious out-takes, which give the listener some idea of the bands humour, and the studio banter of the time. The general feeling all round is that it is one of the best SAMSON albums for years.

Since the 1999/2000 reformation concerts, Paul has relocated to Norfolk and built his own studio, where he has begun recording a new album with Nicky Moore. New tracks are still being written and the album is expected to be finished later this year.

Paul has recently been involved in the re-releases of all four Bruce Dickinson/SAMSON albums. The 1999 Air-Raid versions have been withdrawn, and replaced with the new re-releases on Castle/Sanctuary at the end of May. The new releases include previously unreleased (on cd, if at all) bonus tracks, 12 page colour booklets reproduced from Paul's personal archives, as well as extensive liner notes by Dave Ling of Classic Rock magazine. Castle/Sanctuary is also planning a double "Anthology" cd for 2002.

Paul is also arranging for the official CD releases of "Before the Storm" and "Don't Get Mad - Get Even" albums. These will include bonus tracks and inner sleeves similar to the Castle/Sanctuary CDs. No release date has been set at present.

As well as recording the new Samson album, Nicky will be working for the rest of the year with his band The Blues Corporation. Paul is gigging around Norfolk with his trio Metallic Blue but may do nationwide dates later in the year. These will coincide with the release of a new live album on Mystic Records. Titled "Paul Samson - The Blues Nights", the CD includes performances from his time with Ric Lee's Breakers; The Richard Black Project in Chicago; the 1995 Peter Green tribute show in London and some Samson circa 1993. Mystic are also hoping to release the album Paul recorded with Richard Black in Chicago which is tentatively titled "The Chicago Tapes". A possible tour of the UK with Richard Black and Paul's trio Metallic Blue is being discussed for early 2002.

Paul and Nicky are planning to tour Samson spring and summer 2002 both in the UK and Europe with a possible return to Japan. They will be promoting their new album, the release of the Polydor albums on CD and the planned Anthology CD. Details on all the above releases and dates will be posted as soon as they are confirmed. Despite ads to the contrary in the music press there are no live Samson shows booked for 2001.

Stay tuned, more to follow as time passes by...