Fencing
Bruce started out fencing at the age of 13 at Oundle School, but only after being convinced by a metalwork teacher to try it. If he had done what he felt he wanted he would have started out boxing or something like that. But when he got into fencing he discovered that it not only was about physical training, but giving the brain some exercise as well, being attracted to fencing "because it seemed like a romantic, melodramatic form of combat"..
When he was 15 he won the school fencing competition and became captain of the School team fencers and this gave him the opportunity to go to London to start a professional career. But he felt that he didn't really fit in there and also found it more interesting meeting friends down the pub.
The less he trained, the worse he became and the more he wanted to do something else. In his late teens music started taking over his time and he pretty much quit fencing totally, until the toll of touring persuaded him to pick up his weapon again in 1983. He trained whenever his commitments with Iron Maiden would allow him, competing in regional tournaments in Britain for fun.
In late 1985 he spent two weeks at a fencing trainers camp at an off-duty catholic boarding school, sleeping in a box with no hot water on tap after 7:00 AM. There he was sort of given his trainers certificate. Bruce's coach at the time was Zsolt Vadaszffy, a Hungarian who moved to England in 1958. Some sources said that Zsolt indeed was the one directing the fencing scenes in the Star Wars movies, but this has been corrected by a member of the fencing club who claims the scenes were directed by the British coach Bob Anderson.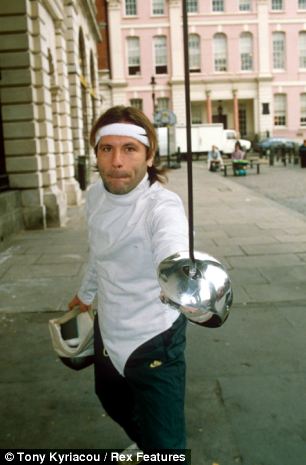 When Maiden had a time off between the Powerslave tour and the recording of the Somewhere in time album, Bruce and a friend of his were travelling around Europe picking up tournaments here and there. However, in spite of all the training and his hard work, his fencing skills did not improve significantly until he realized that he was using the wrong hand. He worked on the switch from being a right-handed fencer to a left-handed one between training sessions on the isle of Jersey and recording sessions for "Somewhere in time" in Amsterdam. By the summer of 1986, Bruce was as competent left-handed fencer as he had been right-handed, and continued improving throughout that and the following year, picking up matches or lessons between Iron Maiden gigs, and sometimes even finishing fencing only hours before showtime.
When Maiden had finished recording Seventh son of a seventh son in West Germany in 1987, the band members couldn't return to England immediately for tax purposes. Bruce then took advantage of the situation by moving to Bonn, so that he could be close to the excellent West German national centre for fencing, where he trained for 6 months. This meant that by the end of the 1987-1988 season he was ranked 18th in Britain. After completing the Seventh son of a seventh son tour Bruce did spend 7 months training and ended up being ranked 7th in Britain in the men's foil discipline, while his club side, the Hemel Hempstead Fencing Club represented Great Britain in the European Cup of 1989. However, he is the first one to admit that he only made it to number 7 as the Olympic fencers were taking some time off after Seoul 1988. By 1989-1990, Bruce's ranking slipped back to 35th.
Bruce might have been able to make the Olympic games in 1992 but the closest he ever got to the Olympics was his involvement Duellist Ltd, a fencing company which sponsored James Williams (sabre), the only UK fencer at the Atlanta Olympic Games in 1996. Bruce founded the company on 25th July 1988 with the intention to provide the UK fencing population with high quality products at an affordable cost. The company is still running, although Bruce is no longer involved.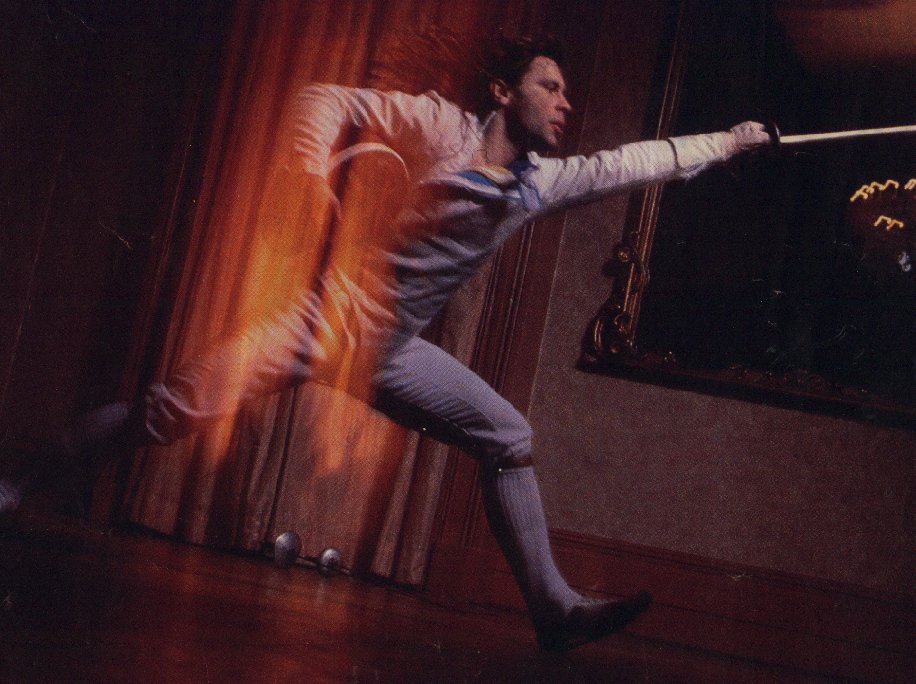 In 2003, Bruce changed his weapon of choice from foil to épée. He is involved with the London Thames Fencing Club at Roehampton and still finds time to fence, finding that it helps him "getting in reasonably good shape" and that "fencing is very similar to the way I run around on stage. Or maybe I run around on stage like that because I fence. Either way it works for me!"
In recent years, he has competed in events like the Oxfam Open (#11 in 2009 Men's épée), taken part in a 24-hour charity Fencing Marathon in support of "Walking with the wounded" held at the University of Surrey Sports Park by the Team Surrey Fencing Club on 30th March 2013, and fenced against Olympic silver medal winner Bartosz Piasecki in April 2013 (who said about him that "He's kick-ass, short but incredibly fast, that's his weapon").
Bruce on the subject of fencing
"Fencing is physical, mental and spiritual. It devours you, from the deepest bottom of your soul to the tip of your toes. Every time you enter a game you offer the opponent the ability to crush your ego. And if it's an important match then it's more important than life and death. Mentally, fencing is fiercely brutal and humiliating."
"I'm an aggressive defensive fencer. Since I'm rather short I have to try and get the opponent to make mistakes all the time. I am irritating, very intense and energetic."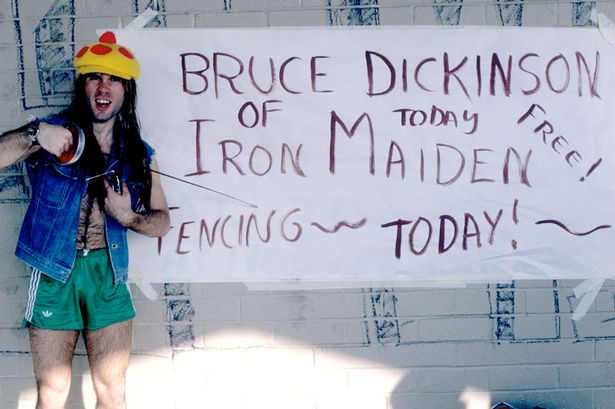 Curiosities
MTV's Most Wanted (1994)
While promoting the "Balls to Picasso" Bruce made an appearance on "MTV's Most Wanted" for an interview segment and an acoustic performance of "Hello No" and "Tears of the dragon" accompanied by Alex Dickson. The show also features a skit where Bruce fences host Ray Cokes. The fencing bit can be seen in the clip below.
Bruce fences Swedish Fencing Ace (2001)
On Sunday December 2 2001 Bruce appeared on national Swedish TV on the show "Söndagsöppet" where he was talking about future plans for Maiden and also engaging in a fencing duel with Swedish Olympic Fencer Peter Vanky. Peter Vanky is an épée fencer and is ranked no. 6 in the world. He has won two World Championship silver medals (1998, 1999) and two Eurpoean bronze medals (1995, 1997) and was no. 5 in the 2000 Olympics.
Bruce lost the game with him with 8 to 15 which is a very good figure since Bruce's weapon of choice is foil. Peter Vanky thought Bruce was really good at fencing and admits to that the game would have been immensly tougher if they had fenced foil.
Bruce fences Olympic Silver Medal Winner (2013)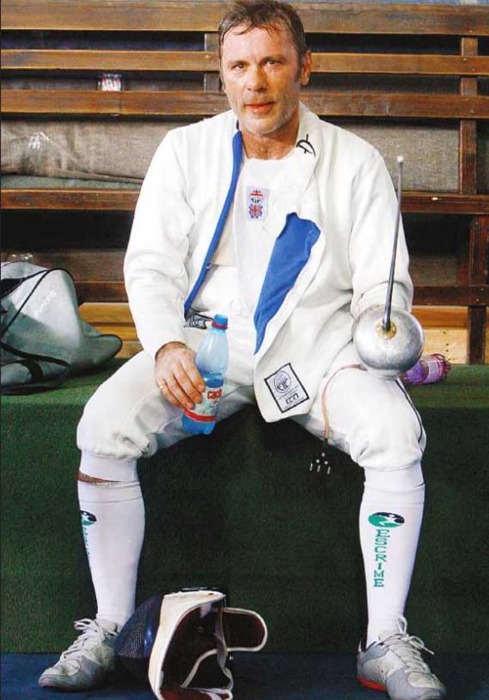 On April 26 2013 Bruce fenced Olympic winner Bartosz Piasecki in Oslo prior to the start of the Norwegian fencing championship. Bruce did well during the warm-up sessions but was defeated as soon as the match kicked off.
Piasecki had this to say about his opponent: "He's kick-ass. He is short but incredibly fast, that's his weapon. He looked like Rocky when he arrived in a brown robe with his fencing kit in a shoulder bag."