The chemical wedding (1998)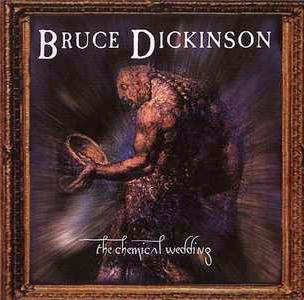 Tracks
King In Crimson
Chemical Wedding
The Tower
Killing Floor *
Book Of Thel
Gates Of Urizen
Jerusalem
Trumpets Of Jericho
Machine Men
The Alchemist
Recording info
Produced by Roy Z
Recorded at Sound City & Silver Cloud Recording
Mixed at Brooklyn Studios by Stan Katayama and Roy Z
Greg Schultz, Adrian Smith, Roy Z - Keyboards
Frazeeke MC, The Guru, Willy 666, Craig Lichtenstein - Backing vox on *
Arthur Brown - poetry reading
Lineup
Bruce Dickinson - Vocals
Adrian Smith - Guitar
Roy Z - Guitar
Eddie Casillas - Bass
Dave Ingraham - Drums
Singles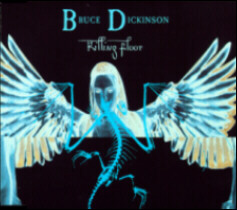 Killing floor
(Japan only)
Promo videos
Killing floor, The tower
One and a half years after "Accident of birth", Bruce put out another album, "The chemical wedding", an ambitious continuation on where the predecessor left off. The line-up was the same as on the "Accident of Birth" album and tour.
Roy Z is once again producing. This time more attention was given the guitar sound. The sound of the guitars were given a special treatmena which included the use of bass guitar strings for some heavy low end noise.
The lyrics on this album concerned "the myths and occult science of alchemy and the mystical poetry of William Blake" as Bruce described them in the biography for the release. The title suggests a reference to Alisteir Crowley, as this was the name of the movie script based on Crowley that Bruce had been working on a for some years at the time of the album's release.
Also featured on the album was none other than Bruce's all time hero Arthur Brown, reading excerpts of William Blake-poetry in between songs.
Click here for the lyrics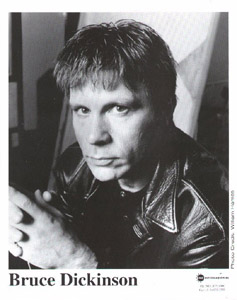 1999 promo shot for the American market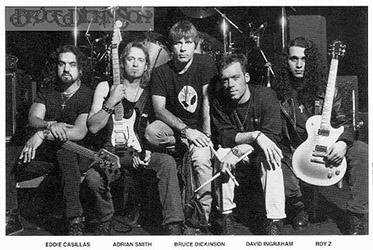 Promo pic of Bruce, Adrian and the Tribe of Gypsies from 1998